All time Scoring Record
Yves Cloutier sets Frontenac scoring record with goal 462

Yves Cloutier, left, presents the puck he used to set a new Club Frontenac Hockey League scoring record to his father Flo. Flo Cloutier founded the league in 1970.
Published on
Oct 26, 2007
PORT COLBORNE -- Yves Cloutier has spent as much time at the Teeder Kennedy arena during the past couple of decades as the Zamboni driver has, but it's doubtful he will ever have a more memorable moment at the chilly rink on the east side than the one he enjoyed the evening of Oct. 18.
At the 5:16 mark of the second period, Cloutier took a pass from Yvan Charrois and snapped a shot past the goalie to establish a new Club Frontenac Hockey League scoring record, breaking the mark that had been set by Al Lochhead in 1980.
The goal was number 462 for Cloutier and together with 915 assists gave him 1,376 points -- one more than Lochhead who retired with 729 goals and 647 assists.
Deron Pilon is third with 381 goals and 674 assists while the fourth player in the history of the league with over 1,000 points is Leo Caron with 384 points and 649 assists.
The goal was extra special for Cloutier for a couple of other reasons as well: it came on his 40th birthday and was witnessed by several members of family including his father Flo, who was the founder of the league back in 1970 when it began with four teams and players either had to speak French themselves or have a French-speaking wife.
"It was great to have them all here, especially my parents who had to rearrange their schedule to be here," said Cloutier. "And my sister, I can't remember the last time she saw me play a hockey game."
Cloutier began playing Club Frontenac hockey while he was a still a teenager -- his first season was 1984-85 with Herb Fraser in the McNeil Division. At the same time he also played with the Port Colborne Junior C Schooners as well as the Port Colborne juveniles.
He later played Jr. C as well as intermediate hockey in Dunnville before limiting himself exclusively to Club Frontenac.
"I've played with a lot of great players over the years and I couldn't have done it without them," said Cloutier.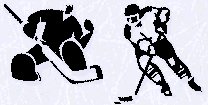 Site Maintained by Kovy
Stats Compiled by Yves Cloutier
Powered by InterPC